BORN OF NIGHT by Sherrilyn Kenyon
Macmillan: St. Martin's Paperbacks
Released: September 29, 2009
In the Ichidian Universe, The League and their ruthless assassins rule all. Expertly trained and highly valued, the League Assassins are the backbone of the government. But not even the League is immune to corruption . . .
Command Assassin Nykyrian Quikiades once turned his back on the League - and has been hunted by them ever since. Though many have tried, none can kill him or stop him from completing his current mission: to protect Kiara Zamir, a woman whose father's political alliance has made her a target.
As her world becomes even deadlier, Kiara must entrust her life to the same kind of beast who once killed her mother and left her for dead. Old enemies and new threaten them both and the only way they can survive is to overcome their suspicions and learn to trust in the very ones who threaten them the most: each other.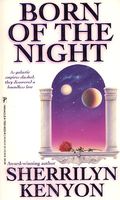 Science fiction books work best when they are long enough to show you the universe (without going overboard with info dumps, of course). Born of Night's length works to its advantage in worldbuilding as well as the development of the romance between Nykyrian and Kiara. I never felt confused about the rules of the Ichidian Universe.
In true Kenyon fashion, Nykyrian is has been tormented and abused his entire life. His backstory is not Acheron or Styxx level bleak, but it's still pretty dark. Kiara meets him while manacled on a spaceship after being kidnapped due to her father's political position. She is immediately afraid of him, which is not entirely unreasonable considering he's a gigantic ex-League assassin. Nykyrian is immediately attracted to Kiara, but she's a princess and therefore off limits romantically. They circle around each other for a good portion of the book. I liked seeing them get to know each other, even if they did screw up quite a bit along the way.
While I appreciated the amount of time spent on the romance and the characters getting to know each other (aka instalove is bad), you have to keep in mind that Born of Night was Kenyon's first book. Her writing style has gotten better since then, and the book was rewritten for republication, but there's only so much you can do with a rewrite vs. a rework. The general framework of the book was not going to change, and the too-stupid-to-live characters who contributed to the plot (I'm looking at you, Kiara's father) could not evolve. Here's the takeaway: it's not perfect, but it's still really good!
And remember: sometimes you just don't have a story if your characters actually talk to people or only deal with intelligent people.
Normally I don't mention much about the narrator for audiobooks, but in this case I really did NOT like the narration. The voices for most of the characters were oddly stylized, as though different stereotypical ethnic and socioeconomic groups were being represented rather than just different voices, and several random words stuck out when they were mispronounced. The narrator is listed as Kelly Fish, but this link says that it's actually Tavia Gilbert working under a pseudonym. If that's the case, I'm surprised by how much I didn't like the voices considering I have listen to several titles narrated by Gilbert and was mostly okay with them. The good news is that Fred Berman and Holter Graham take over narration for the rest of the series. They also did most of Kenyon's other books, and their voices are so sexy and gravelly. Yum.
There's a little part of me that still loves the original cover, pictured right. It was originally published sometime around 1996. Anyone who's seen my library knows that I have a bit of a collecting problem. It took ages, but I finally tracked it down in a little used bookstore near Saint Louis!