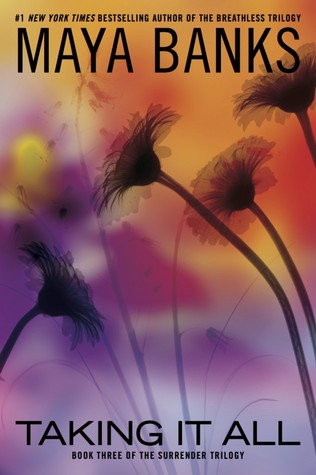 TAKING IT ALL by Maya Banks
Series: Surrender Trilogy #3
Chessy and Tate have been married for several years. In the beginning, their relationship was everything she wanted. Passionate. All consuming. She offered her submission freely and Tate cherished her gift with a tenderness that made her feel safe. Content. Wanted. and loved beyond all measure. but as the years have gone by, Tate has become more immersed in making his business the success it has become, and Chessy has taken a back seat to his business obligations. Growing unhappier with the status of their once blissful marriage, Chessy knows that something has to give. Or they stand to lose it all.
Tate loves his wife. Has always loved her. Providing for her has always been his number one priority. But lately she's seemed unhappy, and he's worried. Worried enough that he arranges for a night together that he hopes will reignite the fire that once burned like an inferno between them.
But a business call at the wrong time threatens everything. Chessy's safety, his concentration, his wife's faith in him as her husband, a man sworn to love and protect her above all else. Gutted with the realization that he's going to lose her - has already lost her - he readies for the fight of his life. Whatever it takes, he'll get her back. And prove to her that nothing is more important than her love. And that if she'll allow him to prove himself one more time, he'll take it all. Everything. But he'll give far more back. Himself. His undying love.
I really wanted to like this book, but it just didn't work for me the way the rest of the trilogy did. Chessy was never my favorite character to begin with, and the combination of her being too afraid to speak up about the state of her marriage and Tate's obliviousness to everything was just annoying.
The biggest difference between this book and the rest of the series is that this one is about a marriage that failed and now has to be rebuilt. These are tough for me to read sometimes because quite often it's hard to justify the characters wanting to rebuild their relationship after everything that has gone wrong. It has to be done well. Banks even manages it in the first book in the KGI series. But again, this one just didn't work for me. Tate majorly screws up in his attempt at reconciliation, then magically fixes everything by making one little change. No relationship counseling. No help from the friends whose relationship he previously meddled in. Nothing that would have resulted in real change in the real world. It was disappointing.