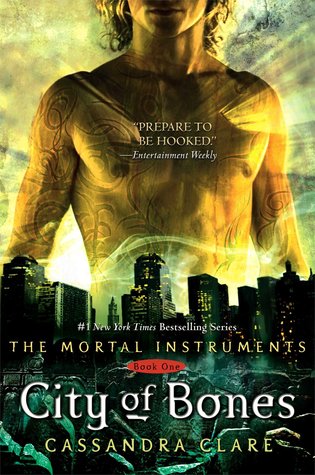 CITY OF BONES by Cassandra Clare
Simon & Schuster: Markaget K. McElderry BOoks
When fifteen-year-old Clary Fray heads out to the Pandemonium Club in New York City, she hardly expects to witness a murder - much less a murder committed by three teenagers covered with strange tattoos and brandishing bizarre weapons. Then the body disappears into thin air. It's hard to call the police when the murderers are invisible to everyone else and when there is nothing - not even a smear of blood - to show that a boy has died. Or was he a boy?
This is Clary's first meeting with the Shadowhunters, warriors dedicated to ridding the earth of demons. It's also her first encounter with Jace, a Shadowhunter who looks a little like an angel and acts a lot like a jerk. Within twenty-four hours Clary is pulled into Jace's world with a vengeance, when her mother disappears and Clary herself is attacked by a demon. But why would demons be interested in ordinary mundanes like Clary and her mother? And how did Clary suddenly get the Sight? The Shadowhunters would like to know....
Exotic and gritty, exhilarating and utterly gripping, Cassandra Clare's ferociously entertaining fantasy takes readers on a wild ride that they will never want to end.
My Review
After a chance encounter with Shadowhunters in the back of her favorite club, Clary's life is changed forever. Her mother disappears, Clary herself is attacked by a demon, and she has nowhere left to turn. What's a girl to do?
I loved this book. I put off reading this book for over a year because I just couldn't bring myself to read it - it looked pretty hokey. But my cousin finally talked me into it this August, and I devoured the entire trilogy in just two weeks. All of the characters are well-developed, as were the relationships between the characters. It makes the story that much more enjoyable to be able to feel what they feel for each other.
The issue in Clary and Jace's relationship wasn't my favorite thing - as an adopted kid, I don't much appreciate using adoption as a plot tool that makes the character or the adoptive parents into some kind of freak. However, I understand why Clare did it, and it does add a necessary level of tension to the story.
The mixture of entities in this story - werewolves and vampires, demons and shadowhunters, angel mythology and the Silent Brothers - was just fantastic. The details Clare throws into the story really draw you in. The plot is a little predictable, but I found that I didn't mind it that much. It was still nice to be able to discover everything along with Clary. I would recommend this to mature readers looking for something they haven't read before in young adult paranormal fiction.
Word to the wise - I would not recommend this series for younger or immature readers. There are adult issues covered that may not be appropriate for all ages. I read this hoping that it would be appropriate for my brothers, age 12, who are both advanced readers for their age and always looking for new books to read; however, I found it to be too much for them to handle. Of course, approving books always happens on a case-by-case basis, so feel free to take this recommendation with a grain of salt.